Until the End of Time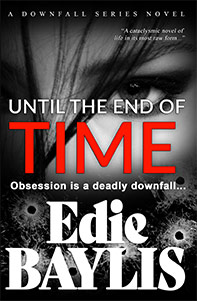 "Brutal, vicious, shocking... A cataclysmic novel of life in its most raw form..." – 5 stars – Picky B*tches Book Blog
Seth Wright and Jane Ellerton are messed up. Really messed up. Their violence and love of excess makes them a perfect match and together they make a formidable couple.
Life should be good in their screwed-up world, but there are far too many people who have an agenda and want to destroy them.
No one can be trusted.
This dark, obsessional and downright dangerous pair will do anything to ensure no one gets in their way and they do bad things. Very bad things.
Drugs, guns and murder - along with Seth's escalating paranoia and Jane's erratic behaviour throws them further into chaos, madness and debauchery and their promise to love one another until the end of time turns into a war. A war not just against everyone around them, but with each other.
Can they get their lives on track or will one of them finally snap, meaning they will both forever have to live with the aftermath?
After all, obsession is a deadly downfall and love does not necessarily conquer all. Especially when it is well and truly warped.
** This book contains written depictions of graphic violence, sex and strong language. It also contains some themes that may be uncomfortable for certain readers.**
What people are saying about Until the End of Time
"...I couldn't help but think of Seth and Jane like the couple in the movie Natural Born Killers. Which, at the time was a pretty controversial movie, much like what I think this story is as well ...I love how the author did not hold anything back. The story is in your face, every messed up thing you can think of is probably written in the pages..." -5 stars - Sinfully Wicked Book Reviews
"…If you love dark romance and aren't afraid to dive into a world of sex, drugs, and violence, you'll love this one!" – 5 stars
"…This is a rollercoaster of a book with lots of sex and violence and plenty of twisted people…" - 5 stars – TM
"...Until the End of Time is a gripping tale of love skewed through the lens of drugs, alcohol, and duress…" – 5 stars – RMGilmour
"...Gritty. Dark. Fast Paced… this story takes the seedier part of life head on- sex, drugs, violence are the back drop to this obsessive high octane love story…" – 5 stars
Where to buy
Ebooks and Paperbacks