Finders Keepers (Retribution #2)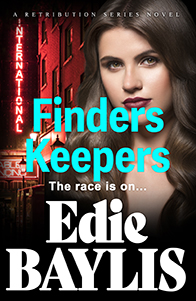 The second book in the Retribution trilogy – a gripping thriller of gangland crime.
The race is on...
An early prison release. An unexpected marriage. Family betrayal. All to get what is owed.
When Saul Powell is released early from prison, it causes mayhem for the family firm. His brother, Jonah, has enough problems trying to keep semblance amidst the chaos, not to mention his fast approaching unwanted marriage.
But even Jonah's problems pale into insignificance compared to what Robert Adams is discovering about his mother, Dulcie – the woman he's always put on a pedestal.
In the meantime, Teagan Fraser is also facing a dilemma – one which could ruin her life completely. Can anyone come out of this nightmare unscathed?
Fans of Martina Cole and Kimberley Chambers will love Finders Keepers.
"Edie Baylis has delivered another truly gripping read. Full of action and twists and turns, I couldn't stop turning the pages! 5 well deserved stars!" - Caz Finlay, Author of Bad Blood Series
WHAT READERS ARE SAYING ABOUT FINDERS KEEPERS:
"...This is one of those books that on finishing a chapter I realise I've held my breath through most if it.....just brilliant!!"
"...Great story, with strong characters and I would give it more than five stars if I could..."
"...Another fantastic book from this author...
"...Highly recommend to gangland fans and can't wait for another instalment..."
"...Had me on the edge of my seat..."
Where to buy
Ebooks and Paperbacks
Watch the Retribution series trailer