Finders Keepers (Retribution #2)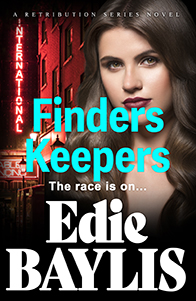 The Race is on…
Saul Powell's early release from prison causes mayhem with his brother, Jonah's already fraught plans to keep semblance amidst the chaos in his firm and his quickly approaching unwanted marriage. But even Saul's presence isn't as bad as what Robert Adams is forced to gradually discover about his mother, Dulcie – the woman he's always held in high esteem.
Teagan, however, is facing an altogether different dilemma – one which could ruin her life completely, as well as many others.
Can anyone come out of this nightmare unscathed?
Where to buy
Ebooks and Paperbacks