The Target of Lies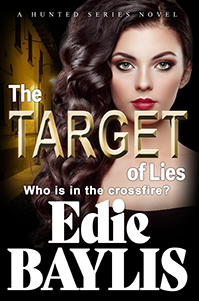 The final book in the Hunted trilogy - a nail-biting, fast-paced, gritty thriller of crime, betrayal and retribution.
Scores to settle. Devastation. Revenge. Suffering. Pain.
Who is in the crossfire?
Neil Sparks has a score to settle. In fact, he has several…
His first port of call when returning from France after a five year exile is to catch up with his estranged wife. Secondly, he wants to even a score with the people instrumental in his departure and thirdly, wants an explanation from the man who promised his marriage would be free from hassle. The trouble is, he's not the only one with an agenda…
Reeling after the recent devastation in her life, Tori wants an end to all the revenge, suffering and pain. When Hunter makes the decision to return to the Reapers it seems his decision has only brought more grief just as she feared it would, but that is only one of her problems. Her life, and of those around her are still blighted with Richard Stevens' deceit, but his deeds are catching up with him and the net is closing in from all angles – including from places he hadn't expected.
Everybody could be a target...
The Target of Lies is perfect for fans of Martina Cole and Kimberley Chambers.
WHAT READERS ARE SAYING ABOUT THE TARGET OF LIES:
- "Love this author, she never disappoints..."
- "Gripping from beginning to end..."
- "OMG what a fantastic story..."
- "Violence, gangsters and sex makes for a fantastic story..."
- "Another blinding read..."
- "Real characters you love to hate..."
** This book contains violence.**
Where to buy
Ebooks and Paperbacks