Trusting Blood - Scarred #3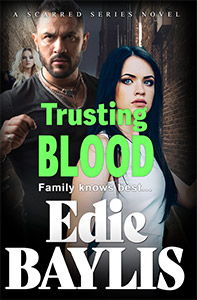 Family knows best...
Hoping to build a relationship with the unexpected addition to his family, as well as rebuilding his firm up from scratch, Zane Morelli is counting on his brother remaining in custody long enough for this to happen. But Erin is making things difficult. So much so that Zane is beginning to question whether they have a future after all.
Erin Langley didn't expect to find an ally in Hazel Grimes, but as it turns out, Erin isn't the only one who can see that more than one person could have an agenda.
But would anyone listen?
Zane's bloodline has already betrayed him in the worst possible ways, so it couldn't happen again. Could it?
A gripping new gangland story perfect for fans of Kimberley Chambers, Heather Atkinson and Caz Finlay by bestselling author, Edie Baylis.
Where to buy:
Ebooks
Trusting Blood is currently available to pre-order on Kindle for release on 19 January 2024 from: