The Final Take (Retribution #3)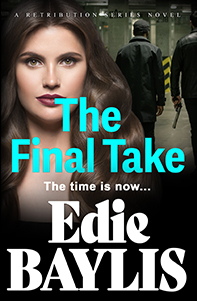 The last part of the Retribution trilogy – gangland fiction at its fastest pace.
The time is now…
Further threats… Misguided loyalties… Betrayal of the worst kind...
Even knowing Ron O'Hara is somewhere in the vicinity, Jonah Powell feels it's time to finally get rid of the diamonds which have haunted his family for decades and caused so much trouble. However, other problems start to arrive from unexpected and additional sources, some of which Jonah didn't expect.
Neither did he expect Teagan Fraser to be playing on his mind so heavily.
But what does it all mean? It may be apt to call time on the curse plaguing his family and of those around him, but how can this be achieved while so many other things are at stake?
Fans of Martina Cole and Kimberley Chambers will love The Final Take.
WHAT READERS ARE SAYING ABOUT THE FINAL TAKE:
"...What a story!"
"...One of the best authors in the genre"
"...Exciting finale...
"...This talented author delivers again..."
"...Totally addictive series..."
"...I honestly didn't know how this series could get any better..."
"...Amazing book..."
"...Kept me on the edge of my seat..."

Where to buy
Ebooks and paperbacks
Watch the Retribution series trailer