The Status Debt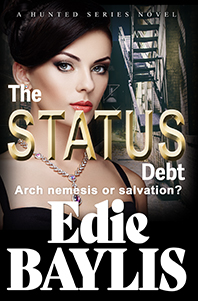 The first book in the Hunted series - a nail-biting, fast-paced, steamy thriller of crime, love and betrayal.
Blackmail. The price of reputation.
Raw passion. Crime. Love. Betrayal.
Lillian Morgan would do anything to regain the status she lost by marrying beneath her. This includes blackmail and the hand of marriage of her own daughter…
Tori's father would have stopped his daughter's misery. He'd have stopped it in a heartbeat, but he couldn't because he was dead. He'd been dead for years. Murdered, in fact…
When Tori's fiancé attempts to further his high-profile career, she finds herself mixed up with Ash Hunter and his crew - the sort of people she blames for her father's death. She hates Ash Hunter and the feeling is mutual, but life moves in mysterious ways and things unexpectedly change.
Someone is not being honest and secrets have the power to rip everyone to shreds.
Especially when life is built on lies.
If your arch nemesis becomes your salvation, surely it can only end in tears?
The Status Debt is perfect for fans of Martina Cole, Kimberley Chambers and Lili St Germain.
**Contains graphic sexual scenes, violence and some topics that certain readers may find uncomfortable.**
WHAT READERS ARE SAYING ABOUT THE STATUS DEBT:
"...Wow! Edie delivers again..."
"...Gritty, steamy and real - a true 5 star read..."
"...I'm a massive fan of Martina Cole, Kimberley Chambers, Jessie Keane... I can now add Edie Baylis to the list..."
"...Another epic series in the making..."
"...I need book 2... Now!"
"...A gripping, emotional gut-wrenching thriller..."

Where to buy
Ebooks and Paperbacks