The Hunted Box Set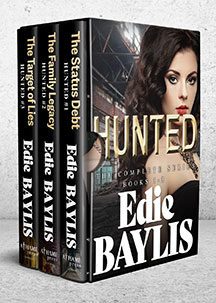 "If you loved the Sons of Anarchy, you'll love this series..."
Bringing together all three books of the gritty, steamy Hunted thrillers in one ultimate box set.
The Hunted Box Set includes:
#1: THE STATUS DEBT
Lillian Morgan would do anything to regain the status she lost by marrying beneath her and to cover the sordid details of her husband's death. This includes blackmail and the hand of marriage of her own daughter.
Tori thought her life couldn't get much worse, but someone is not being honest and secrets have the power to rip everyone to shreds.
Especially when life is built on lies.
#2: THE FAMILY LEGACY
Unsure of whether Matt or Hunter has fathered the child growing inside her, Tori's unwanted wedding to Matt grows closer, but is there light at the end of the tunnel? Unfortunately, Tori hasn't counted on another man present in her life. One who is more instrumental in her misery than she realises.
Sometimes the truth is too late in coming and makes bad things happen and sometimes a hidden legacy can cause the most horrific thing of all…
#3: THE TARGET OF LIES
Neil Sparks has a score to settle. In fact, he has several…
His first port of call when returning from France after a five year exile is to catch up with his estranged wife. Secondly, Neil wants to even a score with the people instrumental in his departure and thirdly, he wants an explanation from the man who promised his marriage would be free from hassle. The trouble is, he's not the only one with an agenda…
There are too many people about to become caught in the crossfire and everyone could become a target.
WHAT READERS HAVE SAID ABOUT THE HUNTED SERIES:
"...Gritty, steamy and real..."
"...Real characters you love to hate..."
"...This series had me spellbound..."
"...OMG Where has this author been? Absolute page turner..."
"...Suspense at its best..."
"...Makes Romeo and Juliet look like a children's book..."
"...Fast-paced and riveting..."

Where to buy
Ebooks